In Lab With... Patrick Meade Physics 177-03
Author: Jackson Sasser
Source: W&M News
Date: April 18,2002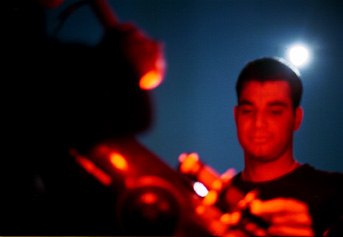 Patrick Meade helps two of his students - and fellow
undergraduates - focus their telescope in his astronomy lab.
A Wednesday evening, on the roof of Small Hall, and it's cold. Two dozen shivering students search the skies with eight-inch telescopes charged with finding the North Star. Most locate, instead, Swem Library.
And then there's senior Patrick Meade, who stands out in this astronomy lab like Jupiter's moons on a cloudless night. By the time the rest of the class is unpacked, Meade has pinpointed not just Polaris, but Ikeya-Zhang, a rare and rather unremarkable comet. To the untrained eye, it seems like searching for a needle in a stack of needles.
Meade's eye, though, is trained, and often trained on the heavens, especially during the section of the Astronomy Lab he leads as a TA. The physics and mathematics major is the only undergraduate anyone can recall teaching the lab, which is one of the department's most popular courses.
When word gets out about the new cache of telescopes, however, the physics department may experience even more demand for the course, which already sports five sections. A $27,000 matching grant from the National Science Foundation landed by Professor of Physics Emeritus John McKnight and Research Associate Professor Stephen Landy has taken students out from behind computers and put them behind telescopes.
"The problem with astronomy labs without telescopes is always, 'What do you do?'" says Landy, who supervises the astronomy teaching assistants. While computer labs and computer simulations can help students understand the night sky, according to Landy, they leave much to be desired. "Telescopes let students see things- the same things Galileo saw 400 years ago- with their own eyes. That's a much more intimate learning experience."
Intimate and, Landy hopes, indelible. A cosmologist who studies the distributions of matter in the universe on an extremely large scale, Landy appreciates the value of a scholarly introduction to stargazing. "In modern astronomy, we talk about supernovas and black holes and the formation of planets," he says. "But what's important about this approach is that if a student learns how the sky moves, he or she may actually keep that, 10 years from now".
Meade, for his part, has been captivated for at least that long. After making his back yard a one-man observatory, where his arsenal of telescopes is sheltered by a custom-built sliding shed, Meade turned his interest in astronomy into an in-depth high school project. That experiment led him to physics, and after only a year at the College, Meade was taking graduate classes in physics and leading the monthly public observatory atop Small Hall.
The future physics professor had another eye-opening experience during the summer after his sophomore year, when he taught - that's right, taught his first course. "The department sent out an e-mail to see if any grad students could teach, and I thought, 'Well I'll reply and see what happens.'" After a few conversations with the department chair, Dirk Walecka, whom Meade had already impressed in class, the sophomore was soon offering two-hour lectures twice a week to students who were, in many cases, older than he.
Meade's work as a student benefits from the same indomitable spirit as his turns as an instructor. He's taken almost all of the required courses for a masters's degree in physics, and a handful of graduate courses in mathematics. A research course with Professor of Mathematics Leiba Rodman led to a collaboration that has produced two published papers, with a third currently under review. Meade has a publication in theoretical physics with Assistant Professor Christopher Carone under his belt. All this must have seemed pretty impressive to Cornell, where he'll head for graduate school in the fall.
"My professors have given me as many opportunities as possible - I think William and Mary is a great school that way," he says. "They don't say, 'Do this, this and this.' If you're ready to go on, they'll let you go on and learn as much as you want to learn. They never stop you because you're an undergraduate."
Not even when you ask to TA a lab, which Meade did when he learned of the telescopes arriving this semester. "You can look at an image on a computer, but it's an entirely different thing when you have to do the work and find it yourself," he says. "And the students in lab learn rather quickly that this kind of thing is not as easy as it looks."
But Meade, his students confirm, is in the business of making things look easy. "You can't tell he's an undergraduate," said Katie Sprinkel, a freshman in Meade's lab. After a long pause, she added: "I don't know if I should say this, but he's one of my best teachers."
It's often said that the best students become teachers; those who know Patrick Meade might say that the best students are sometimes already teachers, and good ones at that.