in
Strings '90, eds. R. Arnowitt, R. Bryan, M.J. Duff, D. Nanopoulos, and C.N. Pope, College Station, TX, March 13-18 (World Scientific, Singapore, 1991) 523-529.

TO BE ANNOUNCED1
V. Gates, Empty Kangaroo, M. Roachcock, and W.C. Gall23
My Teepee, PARTLY-SUNY, The Village, Wrong Island, NY
ABSTRACT
Watch out! You slob! How dare you eat your lunch while reading our paper! (``Abstract'' does not mean abstract art.) No wonder the copier doesn't work anymore.

In this talk we will discuss everything. We will begin at an introductory level that anyone can understand, and finish at an advanced level that even we don't understand. Familiarity with our book is not necessary, but buy it anyway.
Received:

---
1
Talk given everywhere.
2
Butnet address: FREE@LAST
3
Supported by Star Wars and NATO grants. They haven't the slightest idea what we're doing.
Plagiarism is the sincerest form of flattery --- W.C. Gall
You can lead a horse to physics, but you can't make him think --- Marx Groucharu
A mind is a terrible thing to lose --- Dan Quayle
Conservation of angular momentum makes the world go round --- Fig Newton

EVERYTHING FOR IDIOTS
Here is how to explain irrational conformal field theory to your children:

nce upon a time, there was a wonderful place called Superspace. It was full of all kinds of super things, and everyone there was symmetric. But far away in the evil kingdom of the Complex Plane, the mad Prince Tonias was plotting to invade Superspace, and force the beautiful Queen Susy to be his bride.
Meanwhile, back at the ranch, that varmint Battlin' Milk'n'Whiskey was a fixin' to russle up all of Nell's long little dogies, while the preacher was still at the BB Bar & Grille, trying to convince all the angry townspeople of the evil of the Neveu-Schwarz-Ramond formalism. But that's another story.
So Prince Tonias gathered up his horts and cohorts, and they sailed on their Schoonships around the Island of Stability and across the Parton Sea. They marched across the TeV Desert and through Feynman's Forest. They took a cab the rest of the way. ``To the castle of the fair Queen Susy,'' said Tonias, ``and step on it.''
Upon arriving at the outskirts of the castle grounds, the evil Prince brought out his wizard O'Nizer. He cast a magic spell on the people of Superspace:
Oohblahdee, ooblahdaa;
Que sera, sera.
Oowa ditty ditty dum ditty dee,
Dimensions of space be thou much more than three.
Oogam boogam, ditty wa ditty;
Let all be zero who were infinity.
Ooo ee oo ah ah, ting tang wala wala bing bang;
Find a rhyme for this line and see if I care.
and all the firm-ones turned into bozos.
AND NOW FOR A WORD FROM OUR SPONSOR: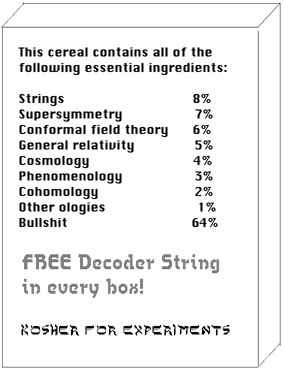 (Available at this workshop next to the coffee and doughnuts.)
BACK TO OUR STORY

Hey, wait a minute! I don't like the way this story is going! Let me tell it MY way!

nce upon a time, or twice if it's topological, there was a beautiful land called Princetonomy. It was located at the center of the Universe, and all roads led there, and everyone Came a lot to give seminars. Its wonder filled the Universe, especially in the compactified directions. It was affine place to do physics.
Far to the north lay the cold, dark land of Bostonomy. Although the people all envied the beauty of Princetonomy, this land was ruled by the evil house of Havid, who frequently kidnaped the knights of Princetonomy and forced them into indentured servitude, and to denounce their beloved homeland. But the days of Havid were numbered, and their rivers were drying up, and the moose were disappearing from their forests. (They got Lyman disease.)
FORGET IT, THIS STORY GOES ON FOR ANOTHER 200 PAGES!
WE DID IT FIRST, IGNORE ALL THOSE OTHER BOZOS
The cosmological constant has been a long-standing problem in quantum field theory which has been worked on by many people outstanding in that field. Everyone needs lots of closet space, so we use the closet space SU(2)xSU(2000)/

. Using these methods, we have calculated the exact age of the universe, and exactly how old it will be when it dies. (We won't give the answer here, because we don't want to clog up this letter with unnecessary details14.) Another result is an inexpensive method for time travel, which we will present in a previous publication. The important point is that we can derive a free action by using the gauge: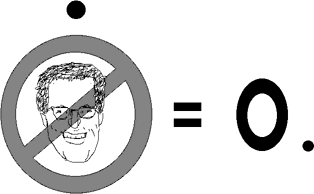 We'll present our main result right after we finish watching our favorite TV program:
Let's say farewell to our physicists;
They're here forever, more or less.
They'll have to write some more papers;
It's a tough business.
No sidewalks,
No town,
No subway stop,
Not a single necessity,
Like College Park, Maryland,
As primitive as can be.
So read our work each week, my friends,
You're sure to get a smile,
From 7 stranded physicists,
Here on Siegel's Long Isle.
Our results can be summarized by the equation(s):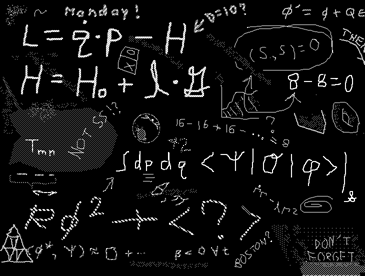 We have checked that this expression for the BRS-and-sometimes-T operator gives the correct c

h

m

l

gy. Of course, the spontaneous symmetry breaking preserves U(1) gauge invariance, since, as we all know, photons have no mas20. This follows from the structure of the CP(1) or O(3) nonlinear sigma model, which is defined on the 2-sphere:
SU(2)/U(1) = SU(2)/U(1) = S(2) .
We quantize on a random lattice21, but, in order to avoid divirgins, we will ignore going to the continuum. (As they say, ``Disguise the limit.'') Unlike the result for BVD quantization, we obtain the following ghost structure for the spinors: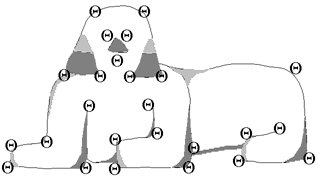 Of course, if we maintain only BLST symmetry, and not the anti-BLST symmetry, the ghost structure simplifies to: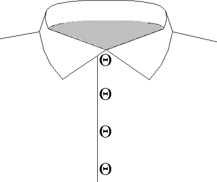 We also obtain the usual ghosts for the reparametrizations Diff(S1)23. On the other hand, in the Never-Shorts-Random formalism, the currents coupling to the 2D supergravity fields form a Sugrawara algebra (or ``caffine Lie algebra''), with a simpler set of ghosts. Furthermore, if the bosonic theory is not only supersymmetrized, but also superconducted, it becomes anyonic, producing some anyones, a few someones, and lots of everyones, but no noones24.
ACKNOWLEDGMENT
We thank the organizers for inviting us to speak. They have promised not to invite us to any future workshops, but we'll come anyway.
APPENDIX: HOW TO REFEREE A PAPER
The reference method: Look in the references. If you're not referenced, reject it. If you are referenced, forward it to the person referenced before/after you.
The weight method: Draw a circle on the floor of radius 1 meter. Standing in the center, throw the paper straight up in the air. If it lands in the circle, accept it for publication.
The aerodynamic method: Open the window. Sit in your favorite chair, and try to throw the paper out the window. If it doesn't make it, reject it. If it does, tell the publisher you never received it.
The indefinite deferral method: Count the number of appearances of phrases such as ``in preparation,'' ``to appear,'' ``elsewhere,'' ``another publication,'' etc. If the number exceeds 3, tell the editor you're waiting for the other papers, which you'll referee simultaneously.
The old switcheroo: Take 2 papers you've been sent, and forward them to each other's authors to referee.
The thickness method: Put an anonymous note on it and slide it under a neighbor's door to referee. If it won't fit, reject it.
The theological method: Throw the paper up in the air. If it comes back down, reject it. If God takes it, let Him referee it.
Coming appendices: How to write a grant proposal; How to organize a workshop; How to plan a working vacation; and many more.
REFERENCES
W.Z. Witten, Knots for nuts;
Free Dan and Ravi Shenker, Knots, braids, and dreadlocks, Rockers preprint.
J. Shirt and J. Shorts, Compactification of summergravity.
W.C. Gall, Superstrings, type IIB announced.
Fierz, Fierce identities for fearbanes, in Basque.
Ed's relatives, Fitting massive people into compactified cars.
The Beach Boys, Kokomology.
G. 't Choo, Gravity's infinite and I don't care.
City Coal Man, Does the cosmological constant vanish? Beats me.
Popov the Sailor, I ain't afraid o' no ghosts, Volga preprint.
D. Gauss, The heaterotic string at fine temperature, Simpleton preprint.
M. Grizareyou, D. Zanonymous, and S. Wine Burg, Beatle functions for zipperstrings, the weak mixing alcohol, and the Kobayashi-Maru matrix, Brandies preprint.
Sade, Smooth operator, Diamond Life, Epic/CBS Records.
John Henry S., 16 tons and whaddya' get? The hadronic string tension! Caltech preprint.
V. Gates, E. Kangaroo, M. Roachcock, and W.C. Gall, Both ends of the universe, FUNY preprint, to appear, if we can finish in time.
W.C. Gall, Which is hotter, high-temperature superconductivity or cold fusion?, Estonia Brook preprint, in preparation.
R. Richards, Mach's principle for Mach turtles, Stony Brook preprint;
V. van Doom, Yes, we have no-ghost theorem, Stony Brook preprint.
King Solomon and O. Soaketchup, Tongue twistors for string theory, Wise Man preprint.
Ed 209, Robocopological quantum field theory for automatons and tomatons.
T. Kugle and K. Sueahero, Nonpolynesian clothes string field theory, Kyotokyo preprint.
Roberto Duran, private communication.
Sasha Migdal, Sasha Polyakov, and Sasha Zamolodchikov, Ising model on Iceberg lattice, Left Landau Institute preprint PU-90/1.
W.C. Gall, When world-sheets collide, to appear.
M.J. Diff, Anomalies for duffeomorphisms, some old papers.
F. Wontczek, Anyons and catyons for vacuum-state tubes and solyd-state transisters, not a Pryncetyon preprint.
DISCUSSION
Chairperson: Mury Gelperson
Scientific Secretary: A. van Even
- (UNIDENTIFIED):
Could you direct me to the men's room?
- GALL:
I believe I already answered that in my introductory remarks.
- BRANK:
How does your lagrangian look in the light-cone gauge?
- GALL:
What lagrangian?
- BRANK:
The one on the blackboard, over there.
- GALL:
That was from the previous talk.
- BRANK:
But your talk is the first talk of the workshop.
- GALL:
Well, then it must be from the next talk.
- BRANK:
But I saw you write it there just five minutes ago.
- GALL:
No, you must be mistaken.
- BRANK:
No, I'm not! I saw you write it!
- GALL:
Well, this discussion is getting a bit long; perhaps we'd better continue it privately. Next question?
- MACDUFF:
Can this result be generalized to membranes?
- GALL:
Yes, I have already done that.
- MACDUFF:
Well, are you going to tell us the results?
- GALL:
I don't think so.
- MACDUFF:
Why not?
- GALL:
I don't like membranes.
- GLASGOW:
What experimental predictions does your model make?
- GALL:
I'm sorry, you must have the wrong workshop.
- MIGRAINE:
Isn't this the same lagrangian you presented in your last paper?
- GALL:
No.
- MIGRAINE:
What's the difference?
- GALL:
Five.
- MIGRAINE:
Could you expand on that answer?
- GALL:
No.
- GATES:
I would like to add a remark. With this new action it is possible to maintain manifest supersymmetry, as well as quantize in a superspace background. This allows for calculation of new vacuum solutions which can be directly calculated by the usual spurion methods.
- GALL:
Really?
- GATES:
Yes.
- GALL:
Are you sure?
- GATES:
YES.
- GALL:
That's interesting. I've been trying to prove that for some time.
- GATES:
I know: The proof was in our last paper.
- GALL:
I thought it sounded familiar.
- VIERDAN:
How does conformal field theory fit into this approach?
- GALL:
What's ``conformal field theory?''
- WALLENDA:
I have recently shown how to do that.
- THE OTHER WALLENDA:
No, I showed that.
- WALLENDA:
No, it was in my Princeton preprint PU-90/77.
- THE OTHER WALLENDA:
No, it was in MY Princeton preprint IAS-90/77.
- KANGAROO:
I distinctly remember that preprint was authored by Herikman Wallenda.
- WALLENDA:
Yes, I'm Herikman.
- OTHER WALLENDA:
No, I'M Herikman!
- GALL:
Is it time for lunch yet?
- GELPERSON:
We have time for one more question.
- GALL:
Well, how about a coffee break?
- GELPERSON:
You don't drink coffee.
- GALL:
I could start.
- GELPERSON:
One last question --- Peshking?
- PESKING:
That's pronounced ``Pesking.''
I'm sorry. This is probably a stupid question. Excuse me for asking this, you probably explained this earlier, but isn't there a crucial sign missing on the right-hand side of your last equation, which is required for unitarity?
- GALL:
Oh, did I neglect to mention that I'm using units ћ = -i?